Elvis: Outside Of Graceland Walking Tour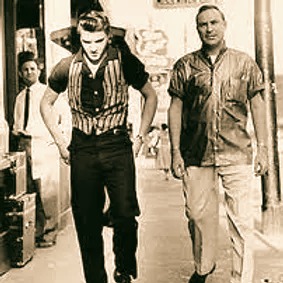 Duration: 2 Hours (approx.)
Location: Memphis, TN
Product code: PKDMDM
Discover Elvis Beyond Graceland: Join Our Captivating Tour!
Walking Tour
Immerse yourself in the rich tapestry of Memphis history as you uncover why Elvis cherished this city as his home. Led by your knowledgeable guide, Brandon—a Beale Street musician with over ten years of insider expertise—you'll receive the best tips and recommendations, making your exploration of Memphis truly exceptional.
​
Prepare to be captivated by this incomparable experience, offering a comprehensive tour of Elvis's life. Whether you're a dedicated Elvis fan or simply eager to discover the essence of the blues and the birthplace of Rock 'n' Roll, this tour is an absolute must.
​
Slip on your blue suede shoes and seize the opportunity to book your spot on this remarkable tour today. Unleash your inner Elvis enthusiast and let the melodies of Memphis serenade your soul.
Highlights
Step into history at the iconic clothing store where Elvis famously threatened to "buy them out," leaving a lasting mark on Memphis folklore.

Visit the location where Elvis found himself in a dramatic altercation, leading to his arrest - an intriguing moment that became part of his legendary journey.

Indulge in Elvis's favorite food at a beloved restaurant that continues to serve his cherished dishes to this day - a culinary delight fit for the King.

Discover the pivotal role Beale Street played in shaping Elvis's career, immersing yourself in the heart of the vibrant music scene that influenced his iconic sound.

Experience the grandeur of the historic Peabody Hotel, which has been home to a cherished tradition spanning over 90 years, leaving a mark on Elvis's memories.

Step into the cinematic world of the icon as you visit exclusive sites featured in the Baz Luhrmann Elvis movie - a rare glimpse into the making of an enduring legend.

Join us on this extraordinary tour, where each stop unveils a unique aspect of Elvis Presley's life, music, and influence.
$300 for a group consisting of 1 to 5 individuals.



Looking for more options? Get a 10% discount on your personalized walking tour when you enter the promo code 'SAVE.' This offer is valid until the end of the year.